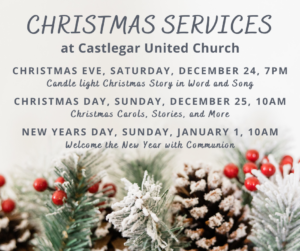 Join us for our church services during the season of Christmas! On Christmas Eve, Saturday at 7pm, we will have a traditional telling of the Christmas story, complete with hand-held candles and singing many Christmas Carols.
Christmas morning is Sunday, this year, so we will be having a service at 10am as we always do. Lucky for us, it is the last Sunday of the month, and therefore, as is our tradition, it is a "Child Within" service. There will be storytelling, a game of Christmas Bingo, and a by-request Christmas Carol sing-a-long!
New Year's Day is also a Sunday this year, so we will be holding our regularly scheduled service at 10am. Being the first Sunday of the month, it is a more formal communion service. What better way to start the new year than by celebrating communion together? Castlegar United Church practices an open table, so all are welcome to partake.