Advent means "to come": it is about creating space in our lives and in our hearts for the arrival of one who will transform the world. Of course we know how the story ends (spoiler alert: Jesus is born!) so creating a sense of anticipation and delaying the joy and gratification of Christmas takes practice.
During Advent we explore four themes: hope, peace, joy, and love. These themes are relevant at all times of the year, but especially in the northern hemisphere when the nights are long, dwelling in each of these makes the arrival of Jesus as the Christ that much more transformative.
Our Service Times (2018)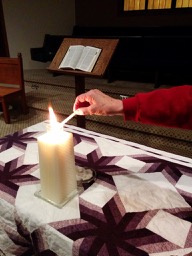 As usual our Sunday services start at 10:00am.
Advent I December 2: Hope
Advent II December 9: Peace
Advent III December 16: Joy
Advent IV December 23: Love
Christmas Eve
Our candlelight Christmas Eve service (December 24) starts at 7pm.
All are welcome at all of our services.