Announcing two springtime group sessions!
Spiritual Attributes Study
This multi-week series is based on the book "Thriving Churches" and explores the spiritual attributes which characterize United Church congregations that are thriving and vibrant. You do not need to read the book to join in. Come for one or all sessions. We will explore the attributes and how they might apply to ourselves using excerpts from the book, the Bible, small and large group discussions, and more. All sessions will be on Zoom.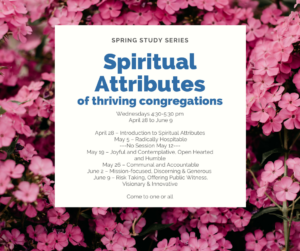 Spiritual Practices Study
This multi-week series explores different spiritual practices and how we can deepen our spiritual lives together and as individuals. It is designed to compliment the Spiritual Attributes Study, however, it also stands alone, so you do not need to do both. Come for one or all sessions. We will learn about and try out different spiritual practices, as well as encourage one another to develop ongoing private spiritual practices outside the sessions.