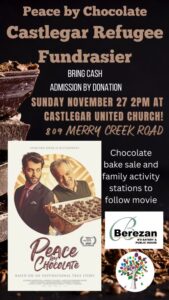 We are pleased to be hosting a screening of the film "Peace by Chocolate" in support of the Castlegar Refugee Project, on Sunday, November 27, 2022 at 2 PM. Admission by donation. The movie will be followed by a Chocolate Bake Sale and some family activities.
Movie description: "After the bombing of his father's chocolate factory, a charming young Syrian refugee struggles to settle into his new Canadian small-town life, caught between following his dream to become a doctor and preserving his family's chocolate-making legacy. Based on the internationally recognized true story."
The Castlegar Refugee Project has committed to sponsoring a family from Myanmar but they need to raise $40,000 just to submit the paperwork before the end of 2022.
Tuan and Thang both had to flee about TEN years ago because their Christian faith made them direct targets of the police and military. Both endured arrests, beatings, and finally their lives were in danger. In Malaysia they met, married and now have 2 little boys. However they are not allowed to work or put their boys in school and very much want to come to Castlegar, Canada. The Refugee Project was asked by their cousin Zing Men to sponsor them. You may remember Zing Men and Tha Tin who were sponsored in 2016? They now live in Regina, have great jobs and 3 girls. They are very active in their church as well!
Come out for chocolate and support this important community action.