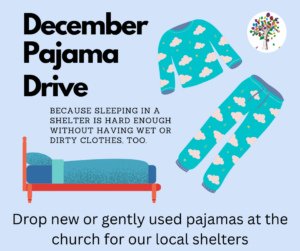 Imagine being homeless, cold, and out on the streets all day. At last, evening comes, and the shelter opens. They have a bed for you tonight! You come in, your clothes soaked with the day's snow. Your backpack, too, is damp and your few possessions inside don't include any clean, dry clothes. What you really need is a warm pair of pajamas.
Now think about yourself. Your real life now. Are you getting new pajamas for Christmas? Do you have a drawer full of old pajamas that are still in good shape? Do you have ones you bought on sale but never actually wore? Our local shelters have said they could really use some cozy pajamas to give people when they come in out of the cold.
That's why this month's challenge is a Pajama Drive! Thank you to all who contributed socks to our recent "Socktober" challenge. The folks at the shelters really appreciated it. Let's see if we can warm some bodies as well as feet with some nice, warm pajamas. You can drop your new or gently used ones off at the church in the bin just inside the main entrance and we will take them to the shelters.